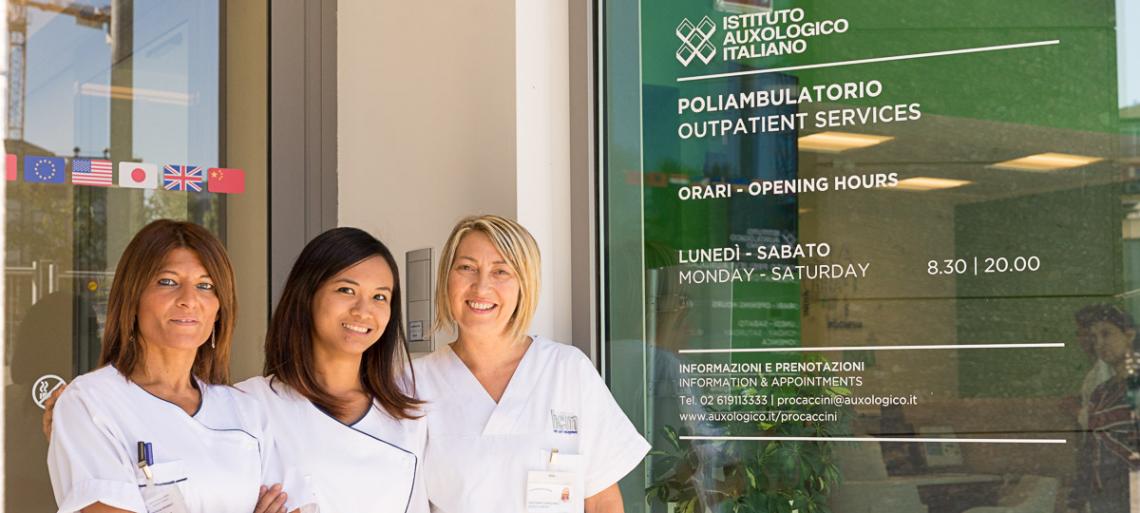 Go back
You are in AUXOLOGICO
Auxologico Procaccini
WHERE WE ARE
Via Niccolini 39 at the corner with Via Procaccini - 20154 Milano
HOW TO REACH US
MM5 Monumentale
TRAM 10, 12, 14
BUS 160, 161
AN INTERNATIONAL CENTER
Multilingual reception and medical staff;
provision of language and cultural mediation free of charge.
PROLONGED OPENING HOURS
PHLEBOTOMY ROOM
Monday to Saturday - 6:30am to 11.30am
Sunday - 8:30am to 11:30am
MULTI-SPECIALTY CLINIC
Monday to Saturday - 8:30am to 08:00pm 
INFO AND RESERVATIONS
BLOOD TEST ROOM
No need of reservation, 7 days a week;
affiliated with the Italian NHS;
results of very frequent lab tests are available within 24 hours, and are available online.
SPECIALIST EXAMINATIONS AND DIAGNOSTIC TESTS
Angiology and Vascular Surgery
Plastic Surgery
Dermatology
Dietetics and Diabetology
Hepatology
Geriatrics
Gastroenterology
Gynaecology and Obstetrics
Speech-Language Pathology
Sleep Medicine
Internal Medicine
Aesthetic Medicine
Paediatrics
Pulmonology
Pediatrics
Psychology and Psychiatry
GENERAL MEDICINE EXAMINATIONS
ULTRASOUND SCANS
NURSE SERVICES
CONNECTION WITH HOSPITAL AND RESEARCH FACILITIES
Specialists come from Auxologico's hospital and research network, to guarantee easy access to tests and treatments of second level, if required;
The Tutor Doctor accompanies the patient during the diagnostic and therapeutic course, ensuring its continuity and personalization, and creates a network of connections between several specialists involved.
ACCESSIBILITY
Online reservation;
digital availability of results;
ZeroCoda (No-Queue) service available for Laboratory of Clinical Analysis;
prolonged opening hours;
Smart Rates offer the possibility to obtain all health-care services at controlled prices.
AGREEMENTS
Several agreements with funds, health insurance companies, sick funds, insurance bodies, to enjoy dedicated reductions and reimbursements of the health-care services, both directly and indirectly;
several agreements with companies, workers' recreational organizations (Cral), associations and other entities to enjoy dedicated reductions.