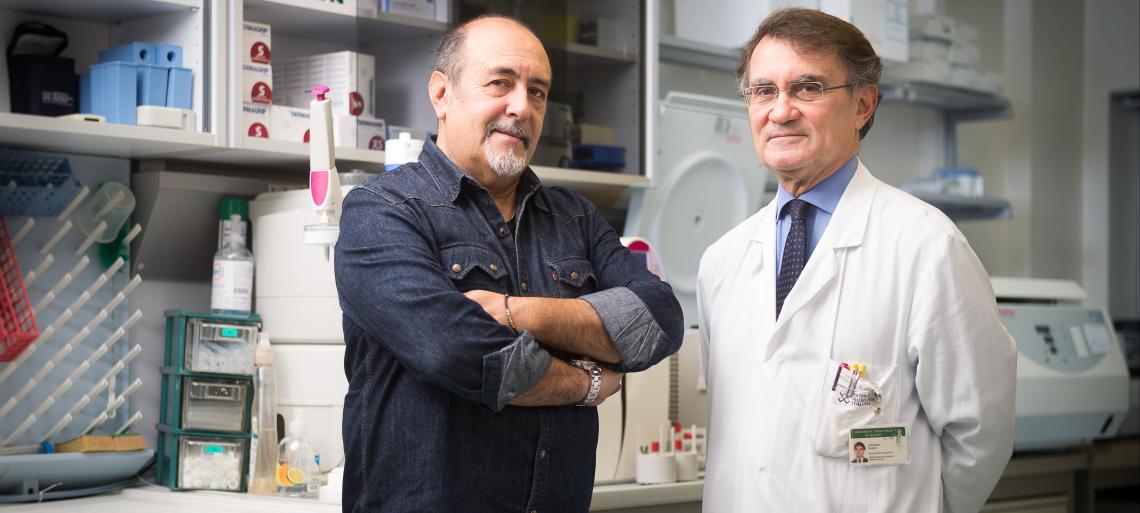 Go back
You are in AUXOLOGICO
Neurology
Activities relevant to Neurology are performed at Auxologico under the direction of senior university  hospital physicians who ensure clinical excellence and who – together with the multiple teams of clinicians and basic researchers – carry out a wide scientific research activity targeted to identify biological markers and, above all, genetic mutations responsible for neurological diseases; their activities are targeted to the development of personalized therapies and increasingly effective rehabilitation treatments.
The outpatient activity is carried out in all the locations of Auxologico in Lombardy and Piedmont, that are equipped with Diagnostic Imaging instruments and where neuropsychological evaluations required for the relevant diagnosis can be performed.
In Lombardy, the San Luca Hospital includes the Neurology Unit and Stroke Unit, internationally acknowledged for its research, diagnosis and treatment of neurodegenerative diseases, in particular of Amyotrophic Lateral Sclerosis, of dementias and of extrapyramidal diseases such as the Parkinson's and Huntington's Diseases.
The Stroke Unit of the Hospital plays an active role in cases of cerebrovascular emergencies and is able to offer patients a rapid treatment of strokes with the administration of both venous and intra-arterial thrombolysis according to the latest protocols.
In Piedmont, the Unit of Neurology and Neurorehabilitation is active in the polyclinic of Villa Caramora in Verbania where medical examinations and trials can be performed: there are also a highly specialized Sleep Medicine Center, and the department of Piancavallo Hospital, that deals with the most complex cases and with the rehabilitation of disabilities due to acute or chronic neurological diseases, with specific reference to the Parkinson's disease and to other Parkinsonisms.
ACCESS TO SERVICES
Both national (Servizio Sanitario Nazionale) and private health insurance schemes entitle people to access the services and treatments provided.
CLINICAL ACTIVITY

Pathologic conditions
Acute and Chronic Cerebrovascular Diseases.

Degenerative Dementias (Alzheimer's Disease, Frontotemporal dementia, Dementia with Lewy bodies).

Parkinson's disease and parkinsonism.

Huntington's disease.

Amyotrophic Lateral Sclerosis and other motor neuron diseases.

Multiple Sclerosis.

Polyneuropathies.

Myopathies and Myasthenia Gravis.

Sleep disorders.
Innovative Techniques and procedures
CSF Markers.

Genetic Markers.

Neurophysiology clinic and study of Sleep (polysomnography and video polysomnography).

Neuropsychological evaluation and evaluation of cognitive activities.

Neuro-ophthalmological evaluation.

Treatments with Botulinum Toxin.

Extra and intracranial Doppler.

Structural and functional Neuroradiology.

Muscle, nerve, and and skin biopsy.

Treatments with repetitive magnetic stimulation (rTMS).
RESEARCH TOPICS
Genotypic Characterization.

Genome Sequencing.

Stem Cells (iPSCs derived from Patients' skin fibroblasts).

Pharmacogenomics.

Computerised instrumental analysis of movement and gait.

Microstructure of normal and pathologic sleep.

Telemedicine for Parkinson's Disease and Multiple Sclerosis.

Nanotechnologies applied to innovative vectors for drugs delivery in the Nervous System.
INTERNATIONALCOLLABORATION AND REFERENCE CENTRES
University of Massachusetts Medical School, Department of Neurology, Worcester, MA 01605

MRC Centre for Neurodegeneration Research, King's College London, Institute of Psychiatry, Department of Neuroscience (PO55) London SE5 8AF

University of Ulm, Department of Neurology, Ulm 89081, Germany

University Medical Center Utrecht, Department of Neurology, 3508 GA Utrecht, The Netherlands