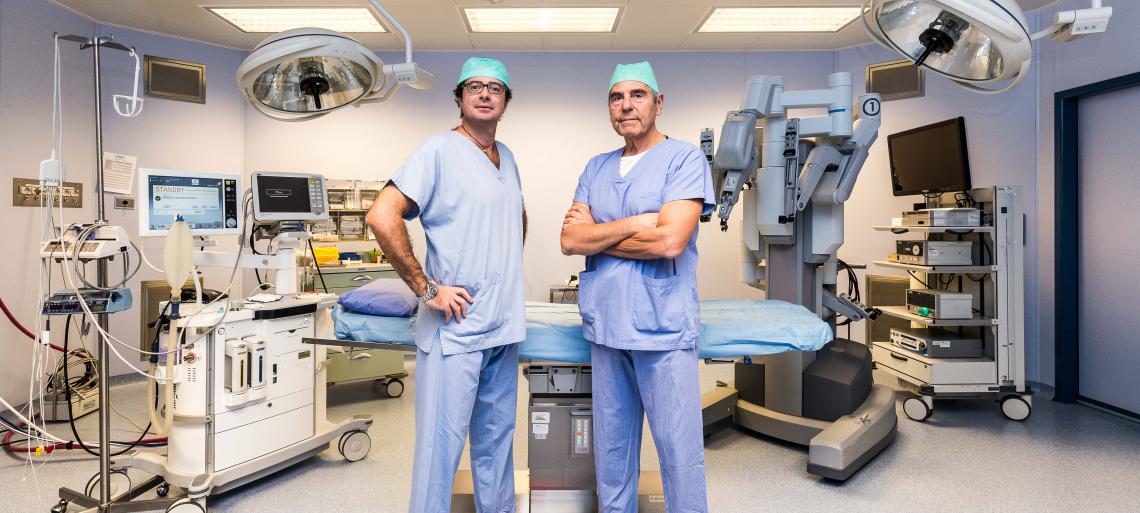 Go back
You are in AUXOLOGICO
Urology and Andrology
With the clinical and surgical activity in the field of Urology and Andrology, Auxologico has the objective of providing the best diagnostic and therapeutic standards relevant to urology and andrology diseases, thus creating programs dedicated to single and specific clinical conditions and pathologies of the patient.
The Urotechnology Center carries out a surgical activity with advanced and mini-invasive procedures and technologies that provide indisputable benefits such as decreased invasivity and reduced pain, shorter convalescence times, but also ensure higher results than those achieved by traditional surgery.

Surgical interventions are conducted at Capitanio Hospital, located in the center of Milan, where patients are provided with the utmost care and attention during the pre-operative and post-operative phases and with dedicated rehabilitation programs.
The outpatient activity is performed in all the locations of Auxologico, where all Diagnostic Imaging instruments (conventional radiology, Magnetic Resonance Imaging, CT and ultrasonography scans) are available, specifically those required for a correct diagnosis of each pathology.

Moreover, the Uro-genetics Service dedicated to the prevention of prostate cancer in subjects who are familiar with this disease is a unique service available in Italy.
Moreover, innovative diagnostic tests are carried out, i.e. the MRI fusion prostate biopsy and the examination of tumor cells circulating in the blood.
ACCESS TO SERVICES
Both national (Servizio Sanitario Nazionale) and private health insurance schemes entitle people to access the services and treatments provided.
CLINICAL ACTIVITY
Pathologic conditions
Prostatic neoplasms.

Bladder/urothelial neoplasms.

Renal neoplasms.

Testicular neoplasms.

Prostatic hypertrophy.

Andrologic disorders.

Adrenal disorders requiring surgery.

Male and female urinary incontinence, Urogynecology.

Malformations.

Neuro-urodynamics.
Innovative techniques and procedures
Laparoscopic and robotic treatment (DaVinci) of principal urological surgical disorders for malignant and functional neoplasms (malformation – genitourinary prolapse – incontinence).

Endourologic laser treatment of Prostatic hypertrophy.

Endourologic laser treatment of urinary lithiasis.

Cryoablation treatment of renal neoplasms.

Minimally invasive treatment of recurrent bladder neoplasms.

Minimally invasive Urogynecological surgery.

Sacral neuromodulation implant.

Andrology and prosthetic surgery.

Andrological rehabilitation.

Urinary incontinence rehabilitation.
RESEARCH TOPICS
Robotic radical prostatectomy.

Robotic radical cystectomy.

Robotic Single Site surgery.

Minimally invasive surgery of the kidney.

Use of different lasers in the treatment of Prostatic Hypertrophy.

Surgery on the metastases of urologic neoplasms.
INTERNATIONAL COLLABORATION AND REFERENCE CENTRES
European Society of Urotechnology (ESUT).

Italian Endourological Association (IEA).

European Registry of Renal Cryoablation (EURECA).

Referral Centre for Urologic Robotic Surgery (Intuitive).

Referral Centre for Renal Cryoablation (Galil).

Referral Centre for Urologic Laparoscopic Surgery (Storz).