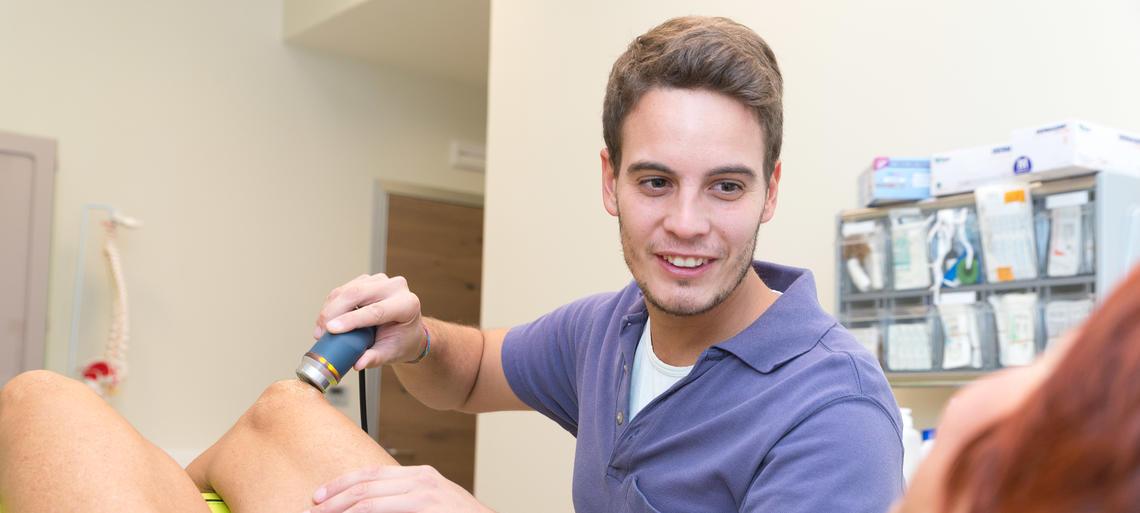 Neurological Rehabilitation Medicine
INTEGRATED AND COMPREHENSIVE REHABILITATION PROGRAMMES
The Auxologico Physical Medicine and Rehabilitation Service, active in the Lombardy and Piedmont sites, offers integrated rehabilitation programmes for motor, cognitive and sphincter problems, and difficulties.
The programmes, coordinated by the physiatrist, may include physiotherapy, speech therapy, occupational therapy, neuropsychological assessments, and more.

Rehabilitation programmes can address:
difficulties related to diseases of the musculoskeletal system: after hip or knee prostheses, lumbosciatica (back pain), trauma, arthrosis, inflammatory joint disease, acute and chronic pain;                   
Speech therapy, swallowing disorders, bladder incontinence that may follow and/or accompany a brain injury, even after possible neurosurgical treatment (e.g., stroke, multiple sclerosis, Parkinson's disease, brain tumour or trauma, inflammatory, vascular, neoplastic or traumatic diseases of the spinal cord).
IN OUTPATIENT CLINIC AND IN HOSPITAL
Depending on the intensity of the patient's problem, the rehabilitation programme can be carried out at the outpatient clinic or, in more complex cases, on an inpatient basis at the Auxologico hospital sites.
ACCESS TO SERVICES
Access to services at hospital and outpatient sites is possible through:
payment of the SSN prescription charge (the National Health);
Smart Tariff;
privately (upon payment);
Agreements (supplementary health funds, insurance companies, health insurance companies, conventions with companies and associations through which you can access a discounted price list).
CUSTOMISATION OF THE TREATMENTS 
The physiatric diagnosis makes use of very advanced instrumental examinations (such as gait analysis, isokinetic evaluation and others), functional and cognitive evaluations, to correctly frame the mechanisms leading to a certain disability.
The specific and customised rehabilitation programme, involves a series of integrated procedures based mainly on therapeutic exercise and physical therapies (electrical, magnetic, thermal, mechanical), but also on pharmacological therapies, both general (antibiotic, hormonal, pain-relieving) and specifically neuromotor (e.g. botulinum toxin for spasticity).
Particular attention is paid to constant measuring, during and after the rehabilitation programme, the effectiveness of treatment.  Hence the use of a wide range of instruments: measurements of strength, balance, walking speed and quality, manual dexterity, urinary retention, swallowing efficiency and safety, cognitive performance (speech, attention, memory, spatial-temporal orientation), communication efficiency, self-sufficiency in daily life, fatigability, pain etc.
MANY SPECIALISTS FOR A SINGLE OBJECTIVE
At Auxologico, rehabilitation is a team effort by multidisciplinary teams that usually include a physiatrist (or specialist in physical and rehabilitation medicine), physiotherapists, nurses, speech therapists, occupational therapists, neuropsychologists, social workers, and dieticians. 
There is also close collaboration with other specialists, in particular rheumatologists, pain therapists, neurologists, cardiologists, orthopaedics, neurosurgeons.