Ophthalmology and Ophthalmology Surgery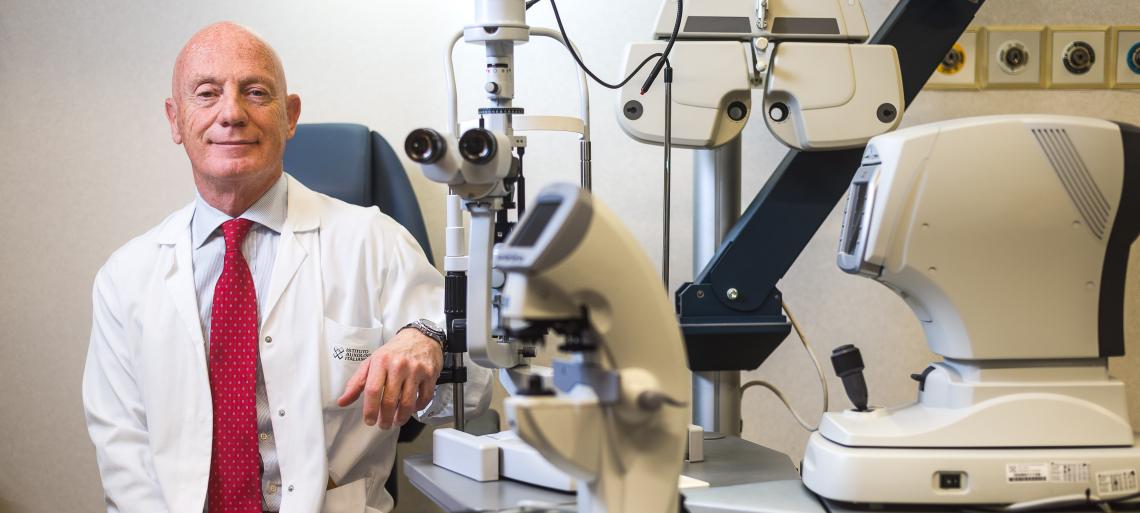 Go back
You are in AUXOLOGICO
Ophthalmology and Ophthalmology Surgery
Clinical activities relevant to the Ophthalmology and Ophthalmology Surgery performed at Auxologico are fully covering all the needs related to the health and regular functioning of the human eye.
In all the locations of Auxologico, ophthalmological examinations and ophthalmic diagnostic tests can be carried out by leveraging modern and highly accurate medical instruments.

There are several specialist centers for the treatment of specific pathologies: from the Glaucoma Center to the Eye Pediatric Ophthalmology Center, from the Neuro-Ophthalmology and Ocular Electrophysiology to the hypovision.
The surgical activity involving all eye pathologies (cataract, retina, glaucoma, cornea) is carried out at Capitanio Hospital.
In addition to the preparation and expertise of the medical staff as well as the cutting-edge instrumentation, the ophthalmologists of Auxologico pay the utmost attention to the patient dedicating the right time to the care of patients.

The focus on symptoms and visual problems, accurate eye examinations and the necessary thorough eye tests, the consultation with colleagues of the team as for the most complex cases and important decisions, the scrupolous and accurate attitude of the medical staff in the operating theatre are all key factors. All this requires the necessary time and effort that ophthalmologists of Auxologico always ensure to patients.
Examinations, tests and surgical operations can be carried out with the national (Servizio Sanitario Nazionale) or private health insurance schemes. 
ACCESS TO SERVICES
Both national (Servizio Sanitario Nazionale) and private health insurance schemes entitle people to access the services and treatments provided.
CLINICAL ACTIVITY
Pathologic conditions

1. Anterior/Crystalline Segment:
Cornea Transplant (every technique).

Cross-Linking.

Correcting refractive defects (Femtolaser).
2. Cataract:
Microincision.

Astigmatism.

Myopia.

Presbyopia.
3. Retina:
Macular Pucker.

Macular Hole.

Diabetes.

Retinal Detachment.

4. Glaucoma:
Selective Laser Trabeculoplasty (SLT)

Trabeculectomy.

5. Ophthalmoplastic surgery:
Blepharochalasis.

Entropion – Ectropion.

Endoscopy of Lacrimal Ducts.

6. Neuro-ophthalmology.

7. All Diagnostic Procedures.

Innovative techniques and procedures:
Revolutionary Femtolaser technique and latest technology to correct refractive defects and cataract.
Micro-incision for cataract surgery.
Minimally invasive Surgery 23, 25, 27 Gauge for Retina Surgery.
RESEARCH TOPICS
Evaluation of vascular, structural and functional retina and choroid aspects in vascular and degenerative pathologies of the Central Nervous System by SD-OCT, electrophysiological tests and non-conventional vascular imaging methods; identification of reproducible biomarkers able to favour early diagnosis and differential diagnosis of these pathologies.
Measurement of oxygen saturation and blood supply indices by Polysomnography Dynamics in patients with acute and chronic vascular optic neuropathies.
Structural and functional quantitative evaluation of the degree of retrograde degeneration of the anterior afferent visual system by ERG, PERG, PEV and SD-OCT in patients with cerebral ischemic lesion affecting the visual pathways or the primary visual cortex; evaluation of the interaction of these parameters with the reorganisation of multisensory processing in the neuropsychological rehabilitation of the hemianopic visual field defect.
INTERNATIONAL COLLABORATION AND REFERENCE CENTRES
Beaumont Hospital Retina Associated di Royal Oak, Michigan, USA

Wills Eye Institute, Philadelphia, Pennsylvania, USA