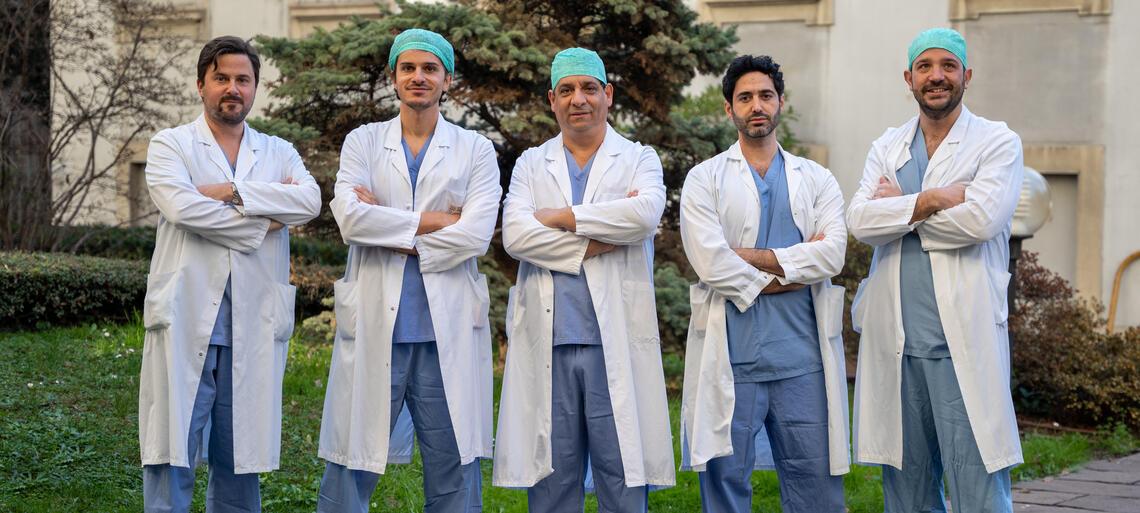 Orthopaedics and Traumatology
MEDICAL EXAMINATIONS, TESTS, TREATMENTS AND SURGERY
The Auxologico activity relevant to Orthopaedics and Traumatology combines an advanced technology level with the acknowledged competencies and skills of orthopaedic surgeons and traumatologists as well as of doctors specialized in anaesthesia and resuscitation.
The outpatient activity is performed in all the locations of Auxologico in Lombardy and in Piedmont, where all Diagnostic Imaging instruments (conventional radiology, Magnetic Resonance Imaging, CT and ultrasonography scans) are available, specifically those required for a correct diagnosis of each pathology.
The orthopaedic surgical procedures are carried out at Auxologico Capitanio Hospital in Milan and cover all the needs related to the problems of the osteoarticular system.
MINI-INVASIVE PROSTHETIC SURGERY
The most advanced techniques of mini-invasive prosthetic surgery that are also adopted in cases of revision of failed prosthetic implants are used for hip and knee prostheses. The shoulder surgery and the hand surgery, the mini-invasive foot surgery and the arthroscopy treatment of joints are other areas of specific expertise.
A continuous clinical research and development activity related to the most advanced surgical techniques is carried out in the Trauma and Orthopaedics department of the hospital and provides indisputable benefits for the patient: high-quality technologies, new materials, innovations in the field of surgery have significantly improved surgical procedures, thus minimizing post-op discomfort, pain and temporary disability.
Auxologico has developed accurate protocols to ensure that patients get the right care for their conditions in the post-operative course and in the rehabilitation phase through multidisciplinary teams made up of physiatrists, orthopaedists and physiotherapists.
Rehabilitation can be provided both in the outpatient clinic and as inpatient treatment at the Unit of Neurological Rehabilitation of Capitanio Hospital or in hospital wards at the Unit of Rehabilitation Medicine located in Via Mosè Bianchi.
---
ACCESS TO SERVICES
Access to services at hospital and outpatient sites is possible through:
payment of the SSN prescription charge (the National Health);
Smart Tariff;
privately (upon payment);
Agreements (supplementary health funds, insurance companies, health insurance companies, conventions with companies and associations through which you can access a discounted price list).
HOSPITALISATION INFO
Nationa Health Service (SSN): tel. 02 619116191 - ricoveri.ortopedia@auxologico.it
Private patients: 02 619116911 - ricoveriprivati.cap@auxologico.it
---
CLINICAL ACTIVITY
PATHOLOGICAL CONDITIONS
Primary arthroplasty in osteoarthritis of the hip – knee – shoulder – ankle

Revision arthroplasty with bone graft and biotechnologies

General trauma

Pelvic and acetabular fractures

Arthroscopic surgery of the knee – hip – shoulder – ankle

Ligamentous reconstructions

Treatment of condral defects

Forefoot surgery
INNOVATIVE TECHNIQUES AND PROCEDURES
Hip arthroplasty without pain and physiotherapy
Minimally invasive total and partial knee arthroplasty
Minimally invasive anatomic and reverse shoulder arthroplasty
Minimal revision surgery
Advanced arthroscopic techniques with application of stem cells, growth factors and scaffolds in condral, ligamentous and tendinous pathology
Percutaneous forefoot surgery
Correction of misalignments of the lower limbs
RESEARCH TOPICS
Minimally invasive arthroplasty

Knee arthroplasty

Minimal revision surgery

Condral defects

Graft improvement with stem cells and growth factors