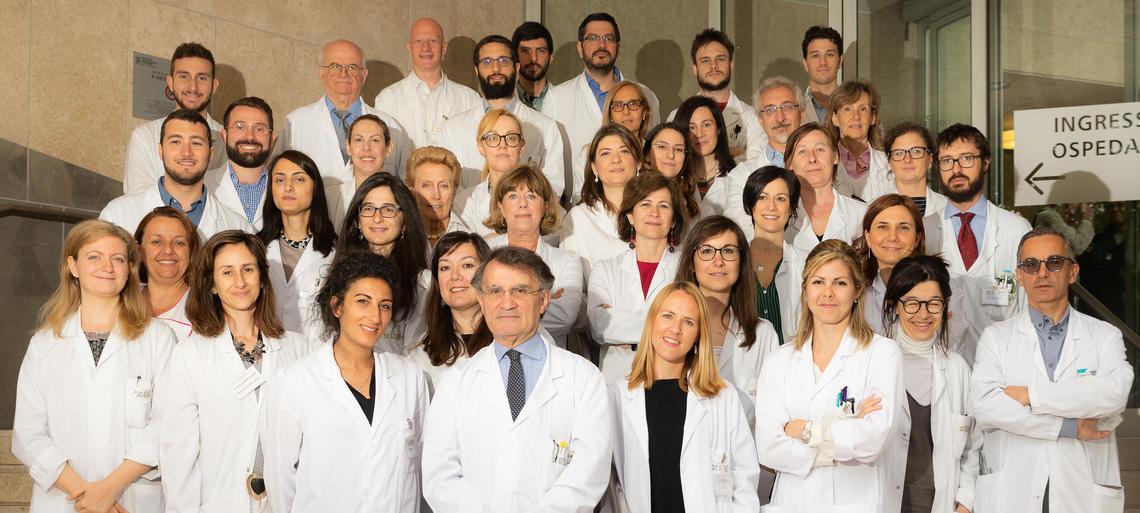 NEUROLOGICAL EXAMINATIONS, ADMISSIONS, DAY HOSPITAL
The Neurology Unit at Auxologico San Luca offers various levels of care in the neurological field:
outpatient, diagnostic and therapeutic activities for all neurological diseases, with particular expertise in neurodegenerative diseases of the central nervous system and cerebrovascular diseases (stroke);
Day Hospital at San Luca Hospital for targeted therapies, such as treatment with immunoglobulins;
hospitalisation in the 12 beds of the San Luca Hospital dedicated to the most complex cases.
The Operating Unit is a national reference centre for motor neuron diseases (ALS and other motor neuron diseases) and is also a national reference point for several Rare Diseases.
ACCESS TO SERVICES
Access to services at hospital and outpatient sites is possible through:
payment of the SSN prescription charge (the National Health);
Smart Tariff;
privately (upon payment);
Agreements (supplementary health funds, insurance companies, health insurance companies, conventions with companies and associations through which you can access a discounted price list).
---
SPECIALIST CENTRES
Centre for Amyotrophic Lateral Sclerosis (ALS) and Motor Neurone Diseases;
Cognitive Disorders and Dementia Centre (CDCD);
Movement Disorders Centre: Parkinson's disease and Parkinsonisms, Huntington's disease, dystonias;
Centre for Cerebrovascular Diseases (stroke, embolism, haemorrhage, etc.);
Headache Centre;
Neurophysiology Centre;
Sleep Centre, in collaboration with the Cardiology Unit;
Neuropsychology and Clinical Psychology Centre.
---
RESEARCH FOR MORE EFFECTIVE TREATMENTS
Through continuous interaction with the Laboratorio di Ricerche in Neuroscienze, the Unit also offers the valuable opportunity for personalised patient study by a research for genetic and biochemical biomarkers of the various diseases in order to optimise personalised therapy.
In particular, using the next generation DNA sequencing technologies (NGS) it is possible to quickly and simultaneously highlight the presence of genetic mutations in the most frequent causative genes for neurological diseases.
The Laboratory of Neuroscience is also engaged in research on stem cells obtained from the skin and blood of patients, in order to provide tools to define the effectiveness of innovative therapeutic interventions.
GENETIC COUNSELLING AND PSYCHOLOGICAL SUPPORT
This cutting-edge genetic diagnostics is supported by special attention not only for the patient but also for the family members, with neuropsychological assessments, psychological interviews and support in collaboration with the Centre for Neuropsychology and Clinical Psychology, but also with the sensitised development of genetic counselling, which is more and more requested due to the advancement of knowledge on the genetic predisposition of the various diseases of neurological interest.