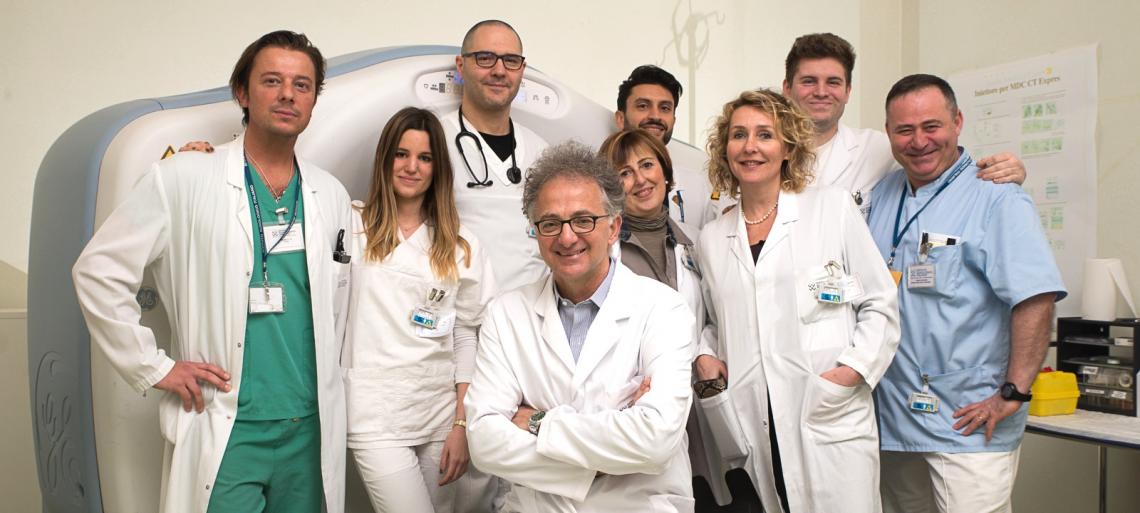 Go back
You are in AUXOLOGICO
Diagnostics and Check-up
DIAGNOSTIC IMAGING
Diagnosis of respiratory diseases, of the central and peripheral nervous system, osteoarticular diseases (Digital Radiology, low dose Multi-Detector Computed Tomography (MDCT) and High Resolution Computed Tomography (HRTC), cardiovascular diseases (Magnetic Resonance imaging of the Heart, Coronary Computed Tomography (TC), Cine MR imaging), metabolic and endocrine diseases (Ultrasonography, Multi-Detector Computed Tomography (MDCT), Magnetic Resonance (MR), Fine Needle Aspiration Biopsy (FNAB)), cancer diagnostics, staging and follow up (Ultrasonography, Multi-Detector Computed Tomography (MDCT), Magnetic Resonance (MR), EcoColor Doppler Digital Mammography, Ultrasound guided fine needle aspiration cytology examination).
Innovative Techniques and Procedures
High Field Magnetic Resonance (dynamic and functional tests), Multi-Detector Computed Tomography (MDCT) (dynamic tests with low dose protocols), Ultrasonography with multi-frequency probes.

Digital Mammograph with the possibility of tomosynthesis and mammography software with contrast medium.
Research Topics
3 Tesla Magnetic Resonance (MR) - Translational Research Project with ministerial approval:

Cerebrovascular diseases.

Degenerative brain diseases.

Cardiovascular diseases.

Hormone dependent diseases.
LABORATORY DIAGNOSTICS
Integrated laboratory diagnostics, syndromes from constitutional and acquired chromosomal abnormalities, syndromic obesity, rare genetic diseases of neurological interest, collagen diseases and arrhythmias of genetic origin, genetics of hypogonadism and of hypothyroidism, common genetic diseases.
Innovative Techniques/Procedures
Electrochemiluminescence, infrared spectrometry,
Array-CGH (Comparative Genomic Hybridisation) and single nucleotide polymorphism (SNPs-Array, FISH, Sanger direct sequencing, Massive Sequencing (Next Generation Sequencing - NGS), Multiplex Ligation-dependent Probe Amplification (MLPA), Real Time Polymerase Chain Reaction (PCR), Flow Cytometry.
Research topics
Autoimmune Diseases, Syndromic and non-syndromic mental retardation, Complex genetic diseases, Rare Genetic Diseases, Neurodegenerative diseases, Genetics of Autism
CHECK- UP, PREVENTION AND EARLY DIAGNOSIS
Sleep medicine, Metabolism and lifestyle, Cardiovascular, Gastroenterological, Urological, Female targeted by age, Personalised Check-up.
Procedures
Indirect calorimetry, Bioelectrical impedance analysis, Breath test,
Mapping – Videodermoscopy, Polysomnography,
Diagnostic Imaging, Digestive Endoscopy, Bone Density Scan (BDS), Questionnaires to assess the psycho-emotional well-being.
INTERNATIONAL COLLABORATION AND REFERENCE CENTRES
Università Statale degli Studi di Milano, University of Milan – Bicocca.

European Molecular Genetics Quality Network (EMQN),

Cytogenetic European Quality Assessment (CEQA),

Euro Rett Network,

Genetic Investigation of Anthropometric Trails (GIANT) Consortium

European Angelman Association.